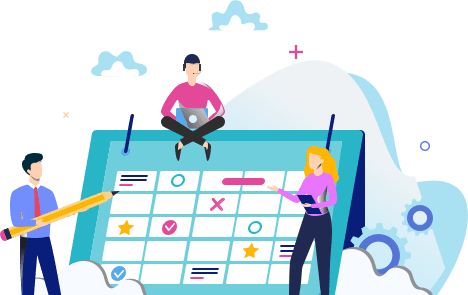 Case Studies
Let's Work Together
We provide custom software to clients in a variety of industries. See examples of how we have helped our clients grow.
---

Scheduling and Project Management
Using the Livia CMS framework, CABEM designed and built a scheduling and witnessing tool to manage visibility and control labor and physical assets. The software deployed in a project environment, and lets companies manage schedules, inventory, and people as well as automate the business and regulatory rules for the various project and scheduling activities.
---

Investment Banking
Working with a sophisticated investment banking company, CABEM has built and maintains software to post, evaluate, commit, and close loans for the small banking membership. The backend allows the customer to manage the process in an efficient and compliant manner.
---

Identity Theft Protection
Working with a sophisticated investment banking company, CABEM has built and maintains software to post, evaluate, commit, and close loans for the small banking membership. The backend allows the customer to manage the process in an efficient and compliant manner.
---
Music Learning Software
CABEM has developed and maintained software to support privacy and identify theft. The software required unique deployments and views, numerous API integrations, credit card processing, and sophisticated administrative Management functions.
---

Hospital Healthcare Hiring
For a fast-growing healthcare software company, CABEM built software modules in a Microsoft .Net environment that supported the selection and hiring of hospital nurses and support staff.
---

Brownfields Grant Writing
Kansas State University and CABEM developed an online software tool to facilitate Brownfield grant writing for the EPA. The government body wanted a tool that could successfully guide users and organizations through the grant application process while addressing the year to year content and policy changes.
---

Gaming and Fulfillment
For this venture backed group, CABEM built a life lesson, educational and social media web site that included a fulfillment model of prizes and points for activities completed.
---

Government Analyst Security Portal
CABEM built a government security portal data that allowed users to quickly post, find, analyze, distill, compile, and build reports for classified information.
---

Employee Hiring Process Management
Designed and built software for a software staffing company to automate their hiring processes, which included manager approvals as well as secure documentation filing and management. CABEM integrated the application into the existing Oracle software.
---

CABEM's Competency manager has allowed us to get to the individual level to ensure each employee has the training and tools they need to build a world class product. The CABEM team has supported us every step of the way.

Summer Fischer, HR Business Partner
---
---

Site Visitation Software
CABEM designed and developed an application for signing in visitors to companies with multiple locations. The application managed various security requirements including ITAR and Classified, as well as maintained visitors logs accessible using a reporting program for past, real time, and scheduled attendance.
---

Online Training for Field Nurses
CABEM designed, built, and deployed the web-based education portal to support employee knowledge and retention for home health care nurses. As unique needs unfolded, CABEM worked to assess how technology could best address a number of educational, operational and HR requirements in a simple, secure, intuitive, and easily accessible environment.
---

Operating Software for ISO Certification Body
For a large ISO certification body, CABEM built and maintains the operations software that manages clients, finances, schedules, auditors, regulated processes and certifications around the world.
---

Vibration Test Data Automation
CABEM conceptualized, built, and deployed a process of automatically capturing vibration data from post script, loading into a database and then rendering as vibration plots into report templates.
---

Bomb Detection Software
The goal was to find Improvised Explosive Devices (IEDs) in vehicles. CABEM Technologies built a beta application to detect hidden explosives using radiation from a range of up to 10m for use in checkpoints, airports, and other deployment scenarios.
---

Cyber Security Thought Leadership
Working with a university, CABEM helped bring together a diverse team composed of academic, business and civic constituents collectively called CyberSeP. The team focused on education and training, during the initial formative period for cyber-awareness.
---
Clothing Simulation Software for the Marines
CABEM provided a software interface for a physiological model that simulated environmental conditions, activity, and clothing.
---

Organizational Efficiency and Effectivity Evaluation
CABEM audited and evaluated processes, personnel, equipment, software, and culture. CABEM then developed a future state vision for the company which included phased recommendations such as system level design, process automation and standardization, and risk management. CABEM is continuing to support the customer with a solution.
---

Vehicle Incident Reporting
Built an application for a valet parking company to track field incidents for insurance reporting purposes. Design tenants included ease of use, low cost to build, and publishable reports for incident report claims.
It's time to upgrade from spreadsheets and manage competency with a flexible software platform. Fill out this form below and we will contact you with 24 hours to get you started.