Competency Management Software can help organizations manage and grow the skills, knowledge, and behaviors required for each employee to perform successfully in a job role. The earliest version of this type of software was custom developed by government organizations such as NASA and the U.S. Coast Guard. Today, this type of program is available to all companies and is especially useful to those in manufacturing, construction, finance, healthcare, and more.
The best competency management software programs are not only designed to track employee competencies but they're also built to be modified as the company grows and those requirements evolve. We discuss the value of this type of software in more detail in our article on competency management and the future of learning and development.
Competency management can benefit employees by allowing them more opportunities to grow their skills and aid in their professional development. These benefits also help the entire company grow and succeed. According to the Association for Talent Development (ATD), companies who invest in advanced training tools, like competency management software, enjoy a 218 percent higher income per employee compared to companies that do not.
Finding the competency management software that best fits your company is not easy. The program must solve your immediate learning and development needs, be easy to use, and also be able to evolve and be customized as your organization grows.
To help with your selection process, below we have outlined the top 8 competency management software systems on the market today.
CABEM's Competency Manager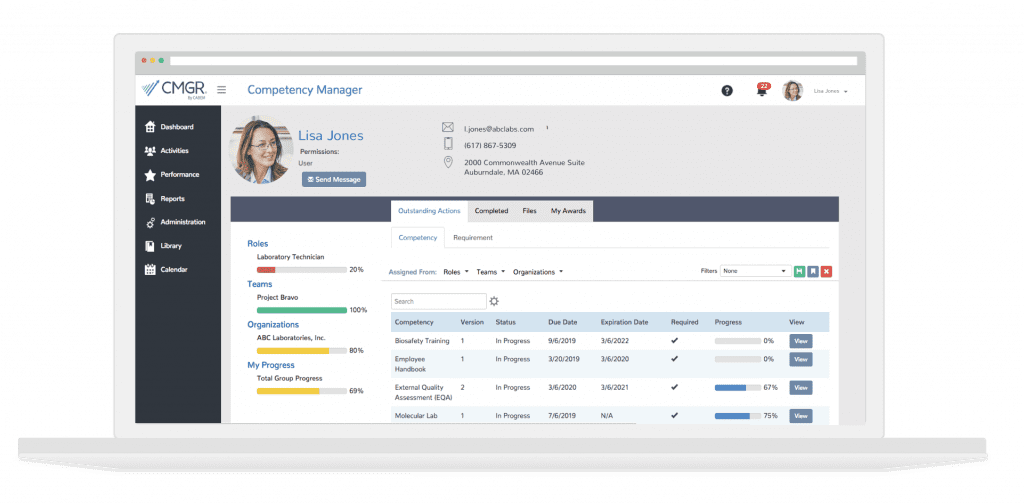 Here at CABEM, we have studied the changing learning and development landscape, and as a result of our findings, developed the Competency Manager to help organizations with their talent management needs. The program is a competency management software that provides a framework for individual competency. With it, organizations can build competency models, train employees, track credentials, and reduce risk.
The software is designed for you to create learning and development programs, assign them, and track the required hard and soft skills employees need based on their assigned role, location, and more. The software allows for storing any required certifications and individual credentials and comes with a reporting suite that includes a skills gap analysis, activity grid, risk reporting, and more.
Our team works with you to identify your needs and can customize the software with modules or further development if needed, or it can be deployed in the cloud and you can get started right away. If you are interested in learning more about the Competency Manager, we'd love to schedule a demo today.
Avilar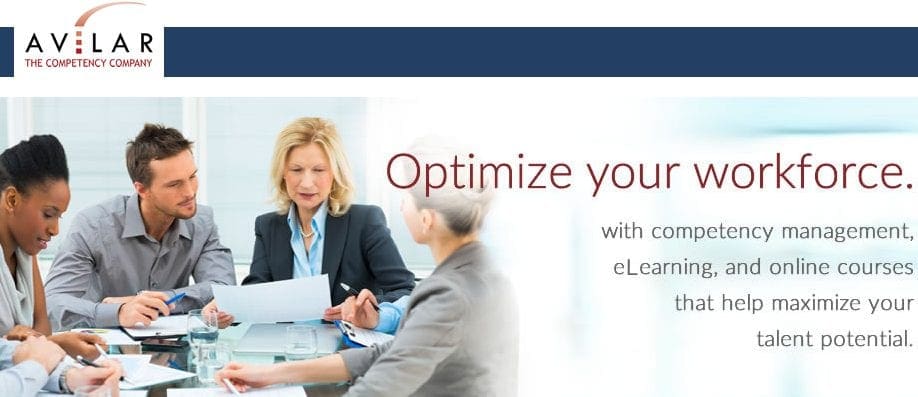 Avilar's competency management software can be used to train your individuals, understand the skills of your workforce, and perform competency assessments. The power of the system comes from the Avilar Employee Competency Model, which is comprised of more than 350 skills within 50 skill groups.
The model is designed for corporate, government, and non-profit organizations. It addresses three key skillsets for the many facets of your company: Professional Skills, Leadership Skills, and Occupational Skills. Avilar's content partners offer easy access to up-to-date and cost-effective online training courses. Their competency-based performance management tool can be used "as is" or customized to meet the specific needs of your organization, and the organization can work with you to consult and implement this system.
HRSG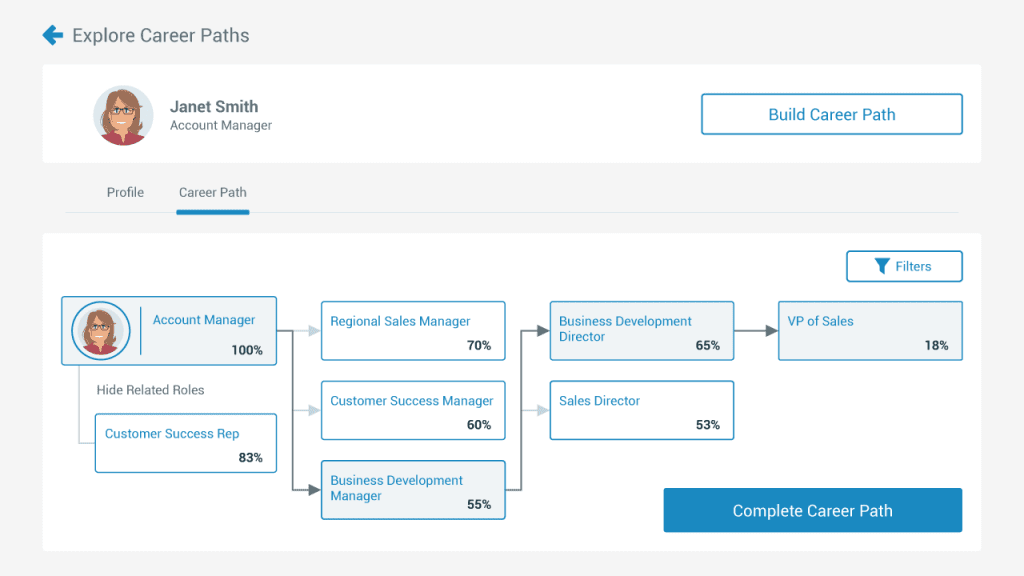 The HRSG's Competency Core gives access to 300+ behavioral, technical, and leadership competencies. The competencies can be edited and linked to the job descriptions in your company. The software also comes with existing job descriptions such as accounting, marketing, and software development.
The behavioral competencies focus on the soft skills of your employees such as team-building or time management. Technical competencies cover the application of knowledge and skills to perform specific tasks. Leadership competencies are used to harness leadership talents and translate them into measurable skills and behaviors. The system even allows you to build competency-based interviews for the onboarding and hiring process. And for existing employees, have access to career management tools to promote internal growth and advancement of their career within the organization.
Kahuna

The competency management system from Kahuna is ideal for small to large corporations who are in need of a cloud-based system to assign competencies and assessments, track performance, and plan for future workforce needs. Kahuna also offers a mobile app that makes core competency tracking easier for managers. The software can also suggest development opportunities for existing employees as needed. And if this does not solve company needs, Kahuna can create action plans to hire for those required skills.
Lexonis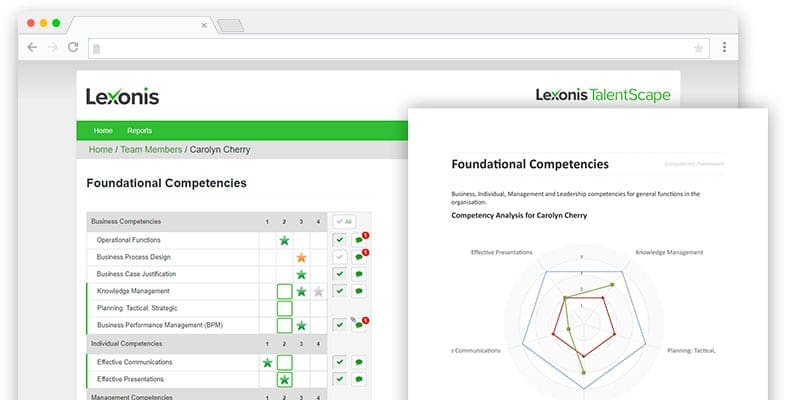 Lexonis partners with IBM to offer a comprehensive library of technical and behavioral competencies so companies can customize the skills needed for individual positions. The Lexonis Competency Framework goes beyond competency management by also offering performance management, career planning, and recruitment. The program helps company owners and managers view, manage, and share competency data from one convenient location. The cloud-based system is subscription-based and easy to launch.
Talentguard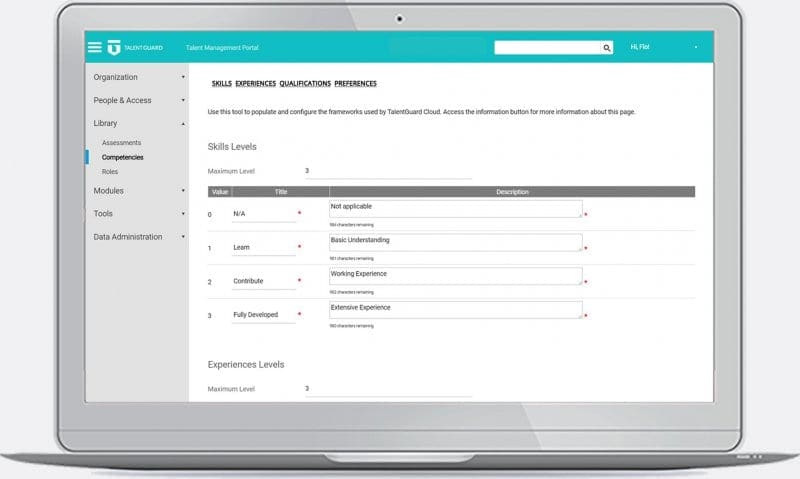 The Talentguard competency management system consists of thousands of skills in more than 22 industries. The software allows employees to showcase their skills, experiences, certifications, and work history, and can even be used to crowdsource employee suggestions of new skills.
There are multiple levels of proficiency in each competency to allow for the growth of each employee. The system also provides interview questions and coaching tips for supervisors while assisting employees with different competencies. Lastly, TalentGuard provides consulting services for its customers in areas including career pathing, performance management, competency development, succession planning, and more.
Skills DB Pro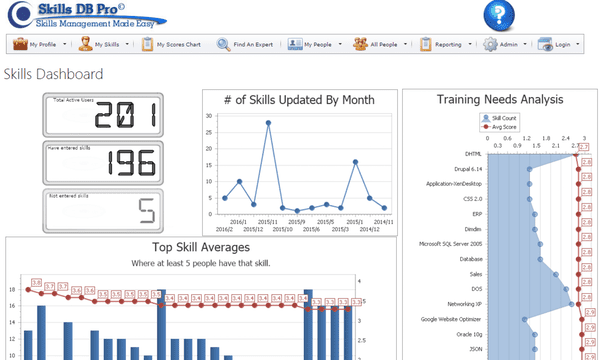 Simple and easy to use, the Skills DB Pro Competency Management Software is designed to accurately evaluate the skills of current and new employees. Skills DB Pro allows you to set up the desired skill set and skill levels for each job role in your company.
The software can be customized for your team and the company offers the services of competency framework consultants who help "expedite the process of developing a competency framework for your business." The system offers more than 3,000 skills and 2,000 job roles. The Skills DB Pro consultants create your custom system by using pre-defined skills and roles to help launch your software more quickly. You can also use the software to identify any skill gaps and create training plans to fill them.
Cornerstone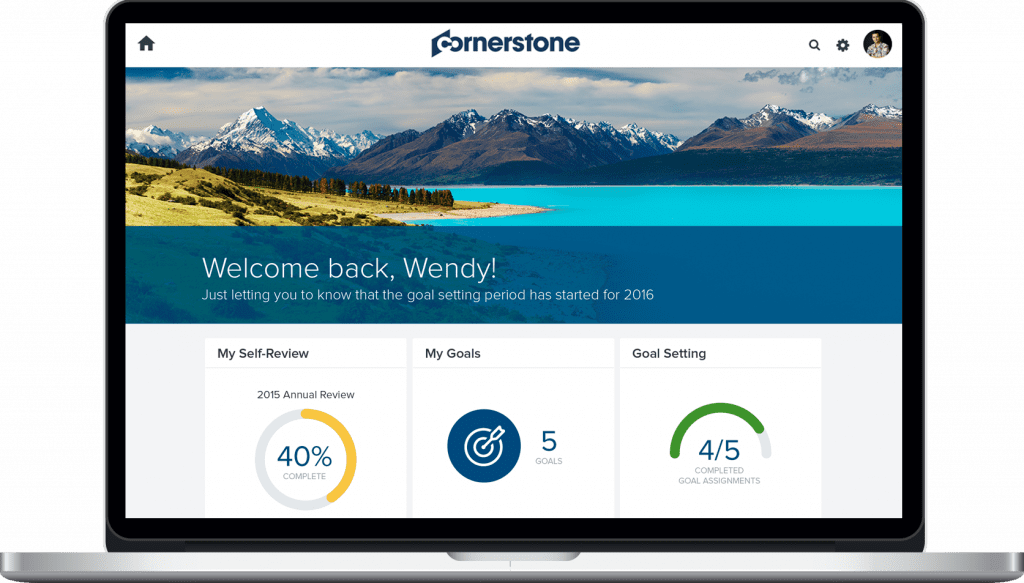 Cornerstone offers a wide range of HR-centric tools including a recruiting, learning, performance, and HR Suite. They offer competency management software as part of their performance management suite. The program catalogs, manages, and develops the skill sets of employees, and includes pre-defined competencies to help businesses assign the correct skills. Cornerstone is able to work with large enterprise organizations and smaller ones as well and has a team of experts standing by to help with implementation.
Cornerstone works as a complete HR suite to keep the onboarding, training, and competencies in one central location. With the software, you can enable your teams with curated content that includes targeted soft skills, technical skills, and super-skills, and can select talent that will benefit most from upskilling and reskilling.
Other articles that may interest you: