A Range of Solutions Driven by a Passion for Competency Management
Know Your Workforce
Your organization has thousands of employees. You know most of their faces, many of their names, and some of their roles. But if I asked you how many of your employees have the specific skills, certifications, and clearance to work on a regulated project, how long would it take you to answer?
Don't wait weeks to cull together out-of-date and mismanaged spreadsheets from department heads.
Answer in seconds with CABEM's Competency Manager.
Our Solution
Contact Us
Competency Framework Solutions
A Range of Solutions
Driven by a Passion for Competency Management
Enterprise Application Development – We offer a rich library of regulatory compliance, competency, and credentialing software components ready to configure for your business. 
We blend years of domain experience with your business requirements to provide a solution that fits your needs like a glove.
Ensure your team meets regulatory standards with an online platform that makes competency training and tracking a breeze. Adapt to each employee's optimal way of learning. Use as a standalone system with built-in LMS features or integrate with your existing LMS.
Track CJIS mandatory vendor and employee requirements. Automate information flow, pass audits, and meet state requirements.
Assess and track qualifications of your employees or vendors. Employees achieve credentials and are rewarded with certificates. Their digital badges provide evidence they have completed a competency.
Automate Your Competency Framework
Automate your current or newly designed competency framework with simple or more complex multi-step competencies, certifications, trainings, and regulatory compliance requirements. Multiple workflows accommodate sequencing for prerequisite tasks, such as self attestations, manager approvals, document uploads, in addition to evaluations and trainings.
Ensure oversight across the organization by requiring approver signoff as a simple standalone requirement or as a final task in a multi-step process, such as achievement of certification.
Grow employee confidence and awareness on internal policies and external regulations by requiring user signoff.
Capture experiential learning on-site through Witnessing. Subject matter experts can quickly and easily administer on the job training through custom assessments. All the information needed is recorded in the system via multiple formats like video upload. Move beyond checking boxes to make an impact on the behavior, culture and values across your organization.
With the built in LMS you can build tests to quiz your learners at every point of the journey, leveraging a wide variety of question formats. Set passing percentages and define the number of attempts your learners have to retake quizzes they weren't quite prepared for. Administer required or optional standalone training courses or require them as steps to achieve a competency or certification.
Track attendance for events such as instructor led training courses, community outreach, or instructional webinars.
Develop relevant learning paths through employee development plans that drive performance, compliance, and career goals with current and target proficiency scales. Mentoring development plans are customizable learning paths that allow mentors to guide mentees through suggested or on the fly activities as their knowledge and proficiency progresses. Use knowledge retention activities to help your workforce apply what they learn to take their expertise to the next level.
Require document upload to maintain accurate employee training, certification, and compliance records. Quickly verify whether an individual or project team has all the documentation required for their work and provide evidence of certification to auditors, vendors, customers, and suppliers.
Leverage the competency manager's built in survey features to learn and adapt your learning and competency program acccordingly.
Activity Grids
CABEM's Competency Manager includes powerful reporting capabilities out of the box. The interactive Activity Grid matrix is a skills inventory that makes it easy to zero in on user progress toward completion.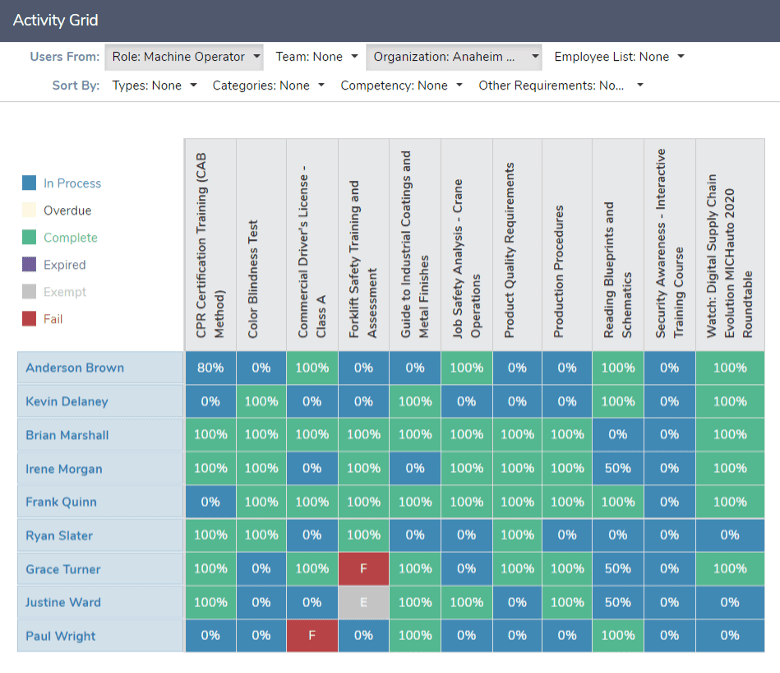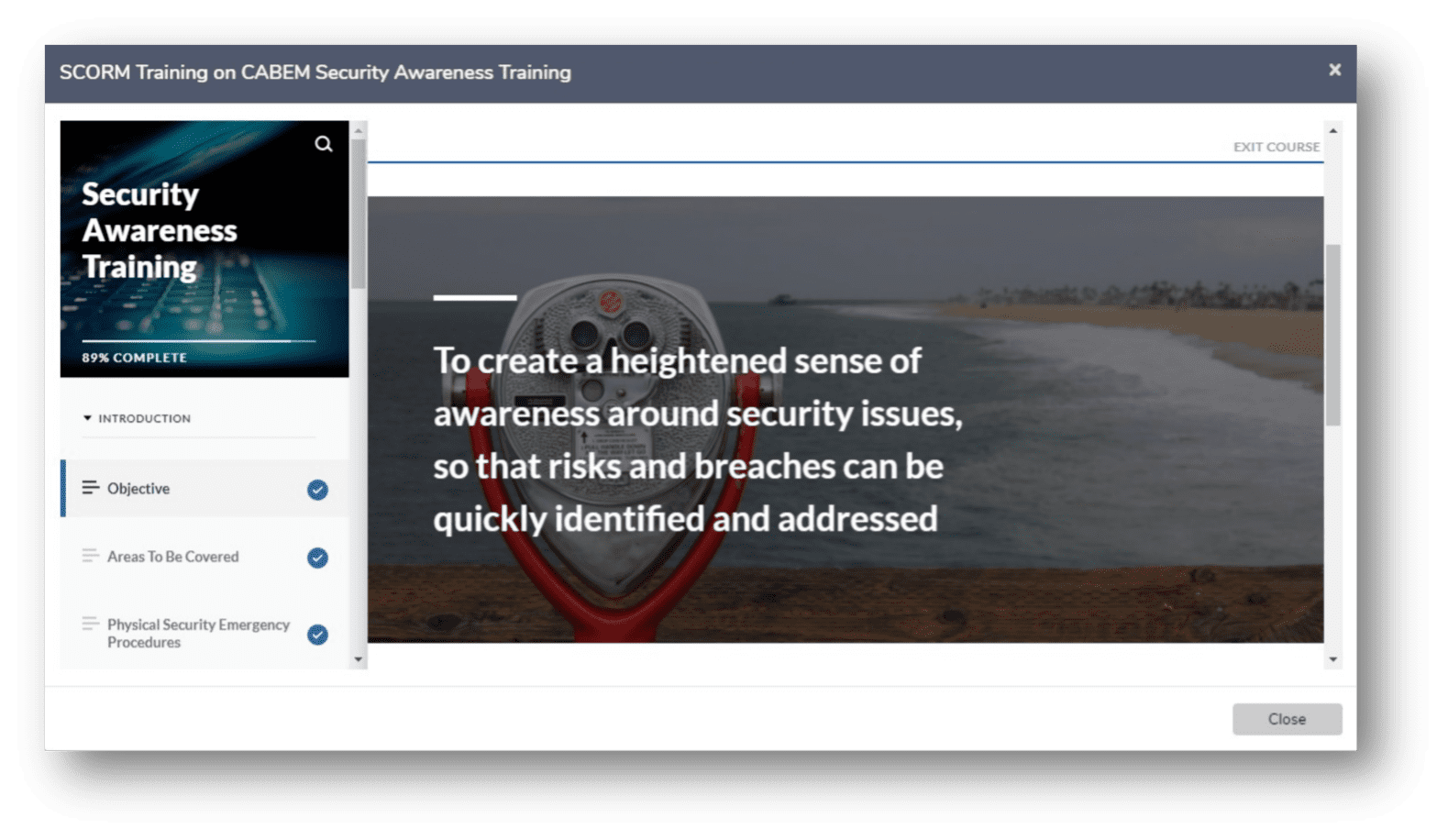 Our LMS – Or Yours
CABEM's Competency Manager makes learning accessible to the entire workforce through its many options for implementing blended learning. With SCORM compatibility and a built in LMS, the Competency Manager provides a central framework for all your content, no matter the source. 
With the Competency Manager there's no single right way to offer learning options to your workforce!
About Us & Why CABEM
Has The Solution For You
CABEM has 18+ years of experience developing custom enterprise solutions for businesses with the highest standards, across a wide array of industries including manufacturing, healthcare, education and government.
We believe that software should not dictate business processes, but that your software should be able to do business the way you want to. Our platform is flexible and allows you to recreate your organization and employee skills in any way you choose.
Investment Banking
Working with a sophisticated investment banking company, CABEM has built and maintains software to post, evaluate, commit, and close loans for the small banking membership. The backend allows the customer to manage the process in an efficient and compliant manner.
Scheduling and Project Management
Using the Livia CMS framework, CABEM designed and built a scheduling and witnessing tool to manage visibility and control labor and physical assets. The software deployed in a project environment, and lets companies manage schedules, inventory, and people as well as automate the business and regulatory rules for the various projects.
Online Training for Field Nurses
CABEM designed, built, and deployed the web-based education portal to support employee knowledge and retention for home health care nurses. As unique needs unfolded, CABEM worked to assess how technology could best address a number of educational, operational and HR requirements in a simple, secure, intuitive, and easily accessible environment.
Employee Hiring Process Management
Designed and built software for a software staffing company to automate their hiring processes, which included manager approvals as well as secure documentation filing and management. CABEM integrated the application into the existing Oracle software.
CABEM's Competency-based Training Manager has allowed us to get to the individual level to ensure each employee has the training and tools they need to build a world class product. The CABEM team has supported us every step of the way.
CABEM is a trusted partner in providing custom built software for our community banking solutions. As our priorities and requirements evolve, they are able to deliver skillfully executed software to meet these needs.
We are delighted to improve the quality of service available to learners, course planners and faculty through this new functionality.